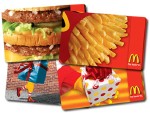 The caffeine wars have heated up with McDonalds offering free samples of its coffee to its customers every morning for the next month. McDonald's has long had its eye on the business of coffee chains such as Starbucks or Dunkin Donuts. To help promote the McDonald's McCafe franchise the company is sponsoring a "McCafe Your Day" contest. The grand prize is a $50,000 Visa gift card and a $500 McDonald's gift card. That's a lot of cash, not to mention hamburgers.
To enter head on over to the McCafe mini site and let McDonald's know who you think would benefit the most from winning the competition. You can upload your story along with photos to the site anytime before June 21st, 2009. All finalists will receive a $1,000 Visa gift card and a $50 McDonald's gift card. Winners will be determined by an online vote held between July 13th and July 26th.
There are also weekly gift card draws available for users of the site. McDonald's will be giving away 130 $1,000 Visa gift cards and $450 McDonalds Arch Card gift cards. The massive amounts of gift cards and money being given away make this the largest current gift card promotion happening online. With thousands of gift cards being given away there is a good chance you may be able to get your hands on a card. If you end up with one of the McDonald's gift cards but would prefer cash, sell you gift card online with Giftah the online gift card marketplace.

Tags: Arch Card Gift Card, Contest, Gift Card Promotion, Giveaway, McCafe, McCafe Gift Card, McDonald's Promotion, McDonalds, McDonalds Arch Card, McDonalds Coffee, McDonalds Contest, McDonalds Gift card, McDonalds Gift Card Contest, McDonalds Gift Card Giveaway, Promotion, Visa, Visa Gift Card