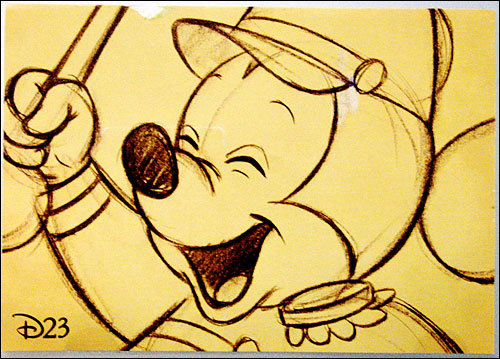 It has never been easier to join the jamboree all the exclusive benefits of the D23 membership are now available as a gift card. You can give a friend or family member the gift of an exclusive D23 membership with the purchase of the Disney D23 gift card. The D23 gift card gives the card holder a one year membership in Disney's D23 club, a one year subscription to the Disney twenty-three magazine, discounted tickets to the D23 Expo (worth $84) held annually and access to members only merchandise and special events. Perhaps one of the biggest perks of D23 membership is the iconic D23 membership certificate and a surprise gift from the Disney Archives.
The D23 Disney gift card is available for only $74.99 from all domestic Disney Stores and all Disney Land Resorts. The tickets to the D23 expo alone are worth the price of the Disney gift card. This is an incredible gift for any Disney fan, act now because these wont last long!
Be sure to keep your eyes peeled for Disney Gift cards appearing on Giftah. Occasionally someone receives a Disney gift card that is not a big Disney fan, these cards end up on Giftah's gift card marketplace, usually selling for a large discount. Keep your eyes open for the incredible deals on these discounted Disney gift cards they won't last long.

Tags: buy discount gift cards, buy discount gift certificates, Buy Gift Cards, D23, D23 Expo, D23 Gift Card, D23 Membership, D23 Membership Card, D23 Membership Certificate, discount d23 gift card, discount disney gift card, discount gift cards, Discount Gift Certificates, Disney, Disney Club, Disney D23, Disney gift card, Disney Resorts, Disney Store, Exclusive Disney Events, Exclusive Disney Merchandise, Gift Certificate, join the jamboree, twenty-three magazine