Wednesday, May 27th, 2009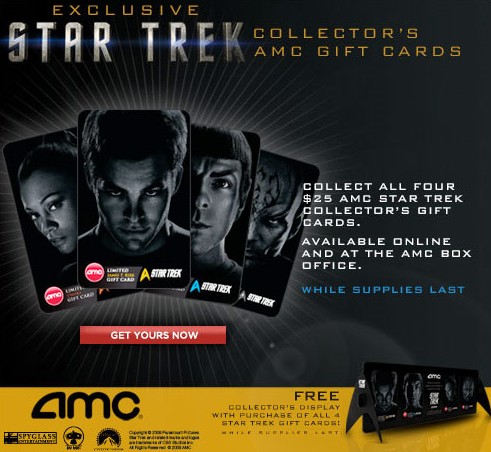 For a limited time AMC Theatres gift cards can be purchased with a special edition Star Trek image. The exclusive Star Trek collectors AMC gift cards come in denominations of $25 each. The cards are available online and at AMC box offices while supplies last. There are four different AMC Star Trek gift cards available featuring the image of four characters from the movie: James T. Kirk, Spock, Uhura and Nero. If you order all four designs you will also receive a free card display stand while supplies last.
Surprisingly gift cards have often become collector items. Harry Potter gift cards with no balance remaining have been sold to collectors on e-bay and other fan sites. Its hard to imagine collectors going after mass produced pieces of plastic, but certain cards are produced in limited quantity making them slightly more valuable to collectors. There is no word on how many AMC Theatres Star Trek gift cards have been produced, but the success of the movie should make the AMC gift cards more desirable to collectors.