Thursday, June 4th, 2009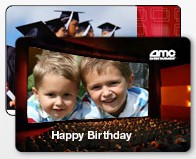 AMC Theatres offers custom gift cards for sale in their online store. You can choose between a traditional design or add a photo to create your own custom AMC Theatres gift card. With the traditional AMC designs you are unable to add your own photo but the gift card can still be customized by writing a personal message. The personal message will appear at the bottom of the gift card. The second type of personalized AMC Theatres gift card allows you to upload any photo which is then integrated with an AMC Design, for example you can upload a photo of your friend and it will appear on a movie theater screen within the gift card. In addition to uploading a photo the personalized AMC Theatre gift card can also include a short message.
The traditional AMC gift card with a personal message does not have any additional fees. The personalized AMC gift cards costs $4.50 which includes the card processing, printing and card carrier fees.