Saturday, October 17th, 2009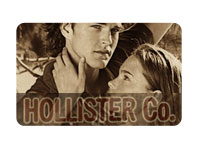 If you are trying to check the balance on your Hollister Co gift card you have come to the right place! Giftah.com is not only an excellent resource for checking the balance on you gift cards, it is also the webs premier destination for buying discount gift cards and selling your unwanted gift cards for cash. Unfortunately Hollister does not offer a phone number to verify gift card balances but  there are still two other ways to check the balance of your Hollister Gift card,
1) Check Hollister Gift Card Balances Online, Click Here.
2) Check Hollister Gift Card Balances At Any Hollister Co. Store.