Tuesday, December 7th, 2010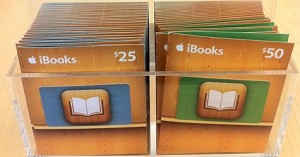 Apple is now offering Apple iBooks gift cards specifically targeted to their new ebook marketplace. Although Apple's iTunes gift cards could already be used to purchase books in Apple's iBook marketplace the new cards remove any ambiguity that may have existed and also provide a better fit for consumers interested in using their iPad primarily as an ebook reader. There is no word yet on  whether the iBook gift cards can be used for music on iTunes or apps in the App Market, but given Apples moves to remove these barriers it seems likely that the iBooks gift cards can be used to purchase anything in Apples marketplaces.
If you have some iBooks or iTunes gift cards you do not plan on using be sure to visit Giftah.com and turn your unwanted gift card into cash. You can sell  iTunes and iBooks gift cards which frees your purchasing power up to buy whatever you want. If you are not sure what to buy on iTunes consider turning your Apple iTunes and iBooks gift cards into cash!