Friday, May 15th, 2009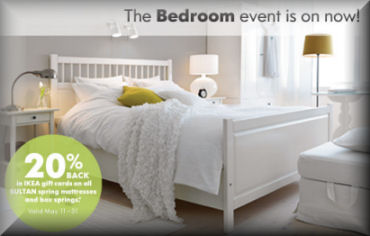 Ikea Canada is having a promotion right now for customers looking to buy some new bedding. The Ikea Bedroom Event gives consumers 20% of their spending back on a Ikea gift card when they buy any Sultan mattresses or box-springs.  The promotion runs from May 11 – 31, 2009 which leaves a couple weeks to get in on this promo.
Many companies have been offering promotions involving gift cards this spring, Canadian Tire and Shoppers Drug Mart have similar gift card promotions happening now. However, Ikea gift cards are much more valuable then many of the other promotions. If you end up with a Ikea gift card you don't plan on using sell the gift card on Giftah. Ikea gift cards are very popular and always command a high selling price.