Sunday, June 28th, 2009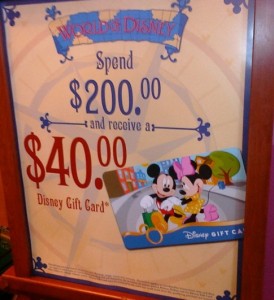 Disney has a pretty decent gift card promotion on for a limited time. Any customer who spends $200 or more at the World of Disney store located in Downtown Disney's Marketplace will receive a $40 Disney gift card. 20% back on a purchase is pretty good, although the minimum purchase price is fairly large. However, considering the sky high prices in Downtown Disney stores it should not be too difficult to spend $200+ dollars on some stuffed animals.
If you want to get back some of the massive amounts of cash you drop in Downtown Disney you can always sell the gift card on Giftah, the webs premiere gift card marketplace. You can list your card in an auction style sale or sell it directly to Giftah. Either way you recoup a good amount of cash for your unwanted gift cards.