Tuesday, December 14th, 2010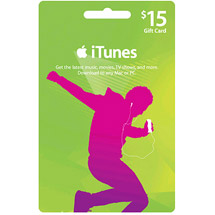 Giftah.com is now giving users cash for their unwanted iTunes gift card. Whether you prefer another music service or obtain your music from "other sources" iTunes gift cards can sit around gather dust for years. Sure iTunes has a ton of content but who does not appreciate the freedom and choice that money provides, you could buy some more one hit wonder singles on iTunes, or you can use the money to buy whatever you want at whatever store you want. We will accept any gift card that can be used on iTunes, regardless of if its for iBooks, iTunes or the Apple App Store. Don't let you iTunes gift cards site in a drawer when you can turn them into cash.
Unlock iTunes gift cards hidden value and sell your iTunes gift cards on Giftah? Just mail the iTunes gift card to Giftah, as soon as your card has been verified you will be paid via Paypal, all payments are issued within 24 hours of receipt. iTunes gift cards from the United States and Canada are accepted,  if you have any questions or need assistance contact our customer service team at 1-866-928-GIFT. Giftah.com is here to help you turn your unwanted gift cards into cash!