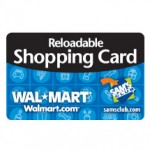 If you have an old Walmart gift card lying around the house and can't remember if there is any balance left on the gift card you have come to the right place. It is easy to check the balance on Walmart's gift cards; the company has provided the following three methods for checking their gift cards balance.
1) Check Walmart Gift Card Balance By Phone, Call 1-888-537-5503
2) Check The Walmart Gift Card Balance Online, Click Here.
3) Check Your Walmart Gift Card Balance At Any Walmart Location.
After you determine the balance on your gift card you can go to Walmart and buy something or you can sell your gift card. Giftah offers cash for unwanted gift cards, just go to Giftah.com and list your gift card for sale on the site.

Tags: check balance, Check Gift Card Balance, check walmart gift card balance, Gift Card, how to check gift card balance, old gift cards, Sams Club, unkown gift card balance, Wal-mart, Walmart, Walmart Superstore