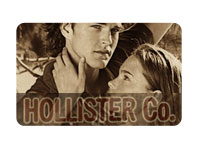 If you are trying to check the balance on your Hollister Co gift card you have come to the right place! Giftah.com is not only an excellent resource for checking the balance on you gift cards, it is also the webs premier destination for buying discount gift cards and selling your unwanted gift cards for cash. Unfortunately Hollister does not offer a phone number to verify gift card balances but  there are still two other ways to check the balance of your Hollister Gift card,
1) Check Hollister Gift Card Balances Online, Click Here.
2) Check Hollister Gift Card Balances At Any Hollister Co. Store.
Now that you know the balance of your Hollister gift card you can go get some new clothes or get some cash by selling the gift card. Whichever option you choose Giftah can help you stretch the value of your card. We sell discount Hollister gift cards so you can buy more and pay less on your next shopping trip, or if would rather have the cash sell your Hollister gift card to us. Its fast, easy, and fun, its Giftah!

Tags: Cheap Hollister Gift Cards, Check Gift Card Balance, Check Gift Certificate Balance, Check Hollister Gift Card Balance, check hollister gift certificate, Discount Hollister Gift Cards, Gift Certificate, Hollister, Hollister clothing, Hollister clothing gift card balance, Hollister Co., Hollister Gift Card, Hollister gift card balance