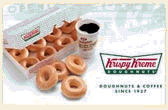 Do you have any old Krispy Kreme gift card lying around gathering dust? Checking the balance on a Krispy Kreme gift card can be difficult if you don't know where to look, in this post we will look at the ways you can check the balance on your gift card and what you can do with it after. Instead of having to purchase some donuts or coffee you could also consider selling your Krispy Kreme gift card to Giftah. To find the balance on that old Krispy Kreme card you can use one of the of the following two methods,
1) Check Krispy Kreme Gift Card Balance By Phone, Call 1-800-4KRISPY.
2) Check Krispy Kreme Gift Card Balance At Any Krispy Kreme Retail Location.
If calling the Krispy Kreme customer service number please note that standard business hours apply for checking the balance on your gift card. Currently the balance of your gift card can not be found online even if you create an account on the Krispy Kreme website.
Once you have the balance of your Krispy Creme gift card consider exchanging your gift card for cash. You can sell your Krispy Creme gift card on Giftah.com, freeing your money so you can buy something that won't give you a heart attack. If insist on getting some donuts or coffee be sure to check out Giftah's website for discount Krispy Creme gift cards to see if you can save money on your next purchase.

Tags: Check Kirspy Kreme Balance, Check Krispy Kreme Balance, How to check Kirspy Creme gift card, how to check krispy kreme, Krispy Kreme, Krispy Kreme Card, Krispy Kreme Card Balance, Krispy Kreme Gift Card, krispy Kreme gift card balance, Krispy Kreme Gift Certificate, Krispy Kreme gift certificate balance