Wednesday, March 23rd, 2011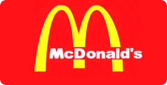 Do you have a McDonald's gift card or Arch Card but don't know what the cards balance is? In this post we will look at the different ways you can check the balance on your McDonalds gift card. We will also let you know how to turn your McDonalds gift card into cash or buy discount McDonalds gift cards so you can save money on your next trip to McDonalds. There are three ways to check the balance on a McDonalds gift card, you can check the balance online, by phone or in store.
1) Check McDonalds Gift Card Balance By Phone, Call 1-877-458-2200
2) Check McDonalds Gift Card Balance Online, Click Here.
3) Check McDonalds Gift Card Balance At Any McDonalds Location.
After you check your balance online you can either go enjoy a tasty meal at McDonald's or you can turn your McDonalds gift card into cash. You can now sell your unwanted gift card to Giftah.com, they will give you cash for just about any of your unwanted gift cards. Nearly all gift cards for major retailers are accepted, to sell your McDonalds gift card just enter the information on their sell page, mail the card and within 24hrs of the balance being verified you will receive payment over Paypal (checks are available on request). If you don't feel like using your McDonalds gift card why not turn it into cash and buy something your really want. If you do decide to use your McDonalds gift card be sure to check out Giftah.com to see if any discount McDonalds gift cards are available. You can use discount gift card from Giftah to save cash on your next visit to McDonalds, whether you are buying or selling Giftah puts more money back in your pocket.