Home
>
Amazoncom
Amazon.com Discount Gift Cards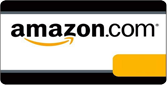 Amazon.com also known as Amazon is the largest online retailer in North America. Amazon.com started selling only books but quickly expanded to other forms of media such as movies, music and software. Today Amazon.com sells just about everything, its products categories electronics, home, garden, pets, toys, clothing, sporting goods, tools, home improvement, office products and even digital downloads. Prices on Amazon.com tend to be cheaper then traditional brick and mortar stores due to the low overhead costs. You can save even more money on Amazon.com with a discount Amazon gift card from Giftah. Use your discount gift card to purchase any of the millions of products on Amazon.com.
How to check your Amazon.com gift card balance?
Sell your Amazon.com Gift Card :
Do you have an unwanted gift card? Sell your Amazon.com gift card to Giftah, we will pay 0% of your card's balance.
Amazon.com
You will receive :
Up to 0%
Sorry, we do not have any gift cards for this store. We would be more than happy to let you know when we get new cards for this store though.
Try out the wishlist!