Home
>
Amc Theaters
AMC Theaters Discount Gift Cards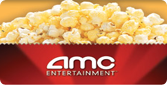 AMC Theaters also know as AMC Entertainment is one the largest movie theater chains in the world. With over 5,325 screens in North America chances are there is an AMC Theater near you. AMC offers the latest movies, 3D movies, broadcasts of special events, and some of the tastiest concessions. You can save money on your next trip to the movies with a discount AMC Theater gift card. Giftah always has plenty of AMC Theaters gift cards available at a discounted rate, why pay full price when you can save cash on AMC Theaters gift cards?
How to check your AMC Theaters gift card balance?
Sell your AMC Theaters Gift Card :
Do you have an unwanted gift card? Sell your AMC Theaters gift card to Giftah, we will pay 73% of your card's balance.
AMC Theaters
You will receive :
Up to 73%
Sorry, we do not have any gift cards for this store. We would be more than happy to let you know when we get new cards for this store though.
Try out the wishlist!