Home
>
Bp Gas
BP Gas Discount Gift Cards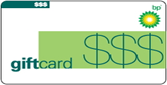 BP Gas gift cards could be an ethical dilemma, are you supporting a negligent company that causes oil spills by using a BP Gas gift card? It's debatable but one thing that is important to keep in mind is that many BP Gas stations are independently owned and had little to do with the causes of the great oil spill. Either way BP has already received the revenue from these discount BP gift cards so it will actually hurt there bottom line more by using them. So why not hurt BP's profits and save some cash the filling up your tank with discount BP Gas gift cards. With gas prices on the rise discount gas gift cards will help you battle the rising gas prices.
Sell your BP Gas Gift Card :
Do you have an unwanted gift card? Sell your BP Gas gift card to Giftah, we will pay 87% of your card's balance.
BP Gas
You will receive :
Up to 87%
Sorry, we do not have any gift cards for this store. We would be more than happy to let you know when we get new cards for this store though.
Try out the wishlist!