Home
>
Cineplex
Cineplex Discount Gift Cards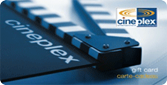 Cineplex Entertainment is the largest movie theater operator in Canada with hundreds of locations across the country. The Cineplex theaters operate under the Cineplex Odeon, Famous Players, Galaxy Cinemas, Scotiabank Theatres, Cinema City and Silver City brands. A Cineplex gift card will be accepted at any of the above affiliate locations. Going to the movies can be expensive, but now you can save money with discount Cineplex gift cards from Giftah. With discount movie gift cards you will be able to save money on your movie tickets or favorite concessions at Cineplex, Famous Players, Scotia Bank and Galaxy theaters.
Sell your Cineplex Gift Card :
Do you have an unwanted gift card? Sell your Cineplex gift card to Giftah, we will pay 65% of your card's balance.
Cineplex
You will receive :
Up to 65%
Sorry, we do not have any gift cards for this store. We would be more than happy to let you know when we get new cards for this store though.
Try out the wishlist!