Home
>
Guess
Guess Discount Gift Cards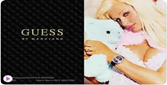 Guess was founded by four French brothers from the Marciano family in Marseille, France. The company was founded shortly after the bros moved to California in 1977 and is still ran by the brothers today. Guess is not afraid to use sex to sell their clothing, their often provocative ads have driven their sales higher for years. Guess stores sell a variety of apparel including jeans, tops, dresses, shoes, purses, swimwear, watches, jewelry and accessories. Whether you are shopping at Guess, Guess by Marciano, or World of Guess, discount Guess gift cards from Giftah will save you money on your next Guess purchase. Unlike promotional codes, coupons or sales the discount Guess gift cards can be used for any item at any time. Why pay full price when you can save money by using a discounted gift card from Giftah.
How to check your Guess gift card balance?
Check by phone, call: 1-800-242-5353
Sell your Guess Gift Card :
Do you have an unwanted gift card? Sell your Guess gift card to Giftah, we will pay 76% of your card's balance.
Guess
You will receive :
Up to 76%
Sorry, we do not have any gift cards for this store. We would be more than happy to let you know when we get new cards for this store though.
Try out the wishlist!