Home
>
Hm
H&M Discount Gift Cards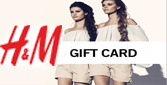 H&M is known for its fashion clothing offerings for women, men, teenagers and children with just over 2,200 stores in 37 countries around the world. The Swedish company is most famous for its popular guest designer collaborations which have features designers such as Karl Lagerfeld, Stella McCartney, Madonna and Jimmy Choo. H&M sells casual jeans, tops, dresses, shoes, sportswear lingerie and accessories. Discount H&M gift cards from Giftah will give you a discount for anything sold at H&M. With a discount gift card it's like everything is on sale everyday.
Sell your H&M Gift Card :
Do you have an unwanted gift card? Sell your H&M gift card to Giftah, we will pay 80% of your card's balance.
H&M
You will receive :
Up to 80%
Merchant
Value
You Pay
You Save