Home
>
Holt Renfrew
Holt Renfrew Discount Gift Cards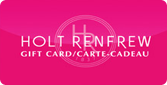 Holt Renfrew or Holt's is Canada's premier luxury fashion department store. Locations across Canada's major cities sell luxury designer apparel, jewelry, cosmetics, Shoes, fragrances and handbags for both men and women. Holt Refrew can be expensive but with a discount Holt Renfrew gift card from Giftah you can save money on expensive luxury items. Don't worry about the high price tag, Giftah will help you save money at Holt Renfrew with discount Holt Renfrew gift cards.
Sell your Holt Renfrew Gift Card :
Do you have an unwanted gift card? Sell your Holt Renfrew gift card to Giftah, we will pay 75% of your card's balance.
Holt Renfrew
You will receive :
Up to 75%
Sorry, we do not have any gift cards for this store. We would be more than happy to let you know when we get new cards for this store though.
Try out the wishlist!