Home
>
Itunes
iTunes Discount Gift Cards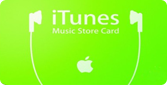 iTunes is Apple's digital media player, the iTunes online store sells downloads for digital content including movies, TV shows, albums, Songs, games, apps, audio books and electronic books. The content is often downloaded and optimized for use on Apple's iPods, iPads and iPhone devices or Apple's streaming device Apple TV. iTunes gift cards or a credit card can be used to purchase content from iTunes. You can save money on iTunes instantly by purchasing discount iTunes gift cards from Giftah. Why pay full price for your favorite music and apps when you can use discount iTunes gift cards to add credit to your account.
Sell your iTunes Gift Card :
Do you have an unwanted gift card? Sell your iTunes gift card to Giftah, we will pay 10% of your card's balance.
iTunes
You will receive :
Up to 10%
Merchant
Value
You Pay
You Save