Home
>
Mcdonalds
McDonalds Discount Gift Cards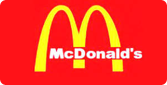 McDonalds is the world's largest chain of fast food restaurants in the world. Over 58 million people enjoy McDonalds hamburgers, French fries, chicken snacks, breakfast items, soft drinks and milkshakes daily. With over 31,000 locations world wide there is a McDonalds near you. If you love eating at McDonalds you will love saving money on your next meal with a discount gift card. Giftah's discount McDonalds gift cards will save you money on your McDonalds meal.
How to check your McDonalds gift card balance?
Check by phone, call: 1-877-458-2200
Check Online: click here
Sell your McDonalds Gift Card :
Do you have an unwanted gift card? Sell your McDonalds gift card to Giftah, we will pay 76% of your card's balance.
McDonalds
You will receive :
Up to 76%
Sorry, we do not have any gift cards for this store. We would be more than happy to let you know when we get new cards for this store though.
Try out the wishlist!