Home
>
Michaels
Michaels Discount Gift Cards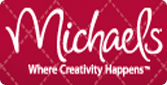 Michaels is the world's largest art and crafts retailer with over 1,000 arts and crafts megstores across North America. Each store contains over 40,000 arts and crafts products and is guaranteed to have what you need for your next arts, crafts, floral, framing or décor project. Michaels also carries a wide range of seasonal decorating items and caters to hobbyists specializing in knitting, beading, sewing or scrap booking. Whatever your next arts and crafts project is you can save money with a discount Michael's gift card. Giftah's discount Michaels gift card will put money back in your pocket or give you even more cash back for your next project.
Sell your Michaels Gift Card :
Do you have an unwanted gift card? Sell your Michaels gift card to Giftah, we will pay 63% of your card's balance.
Michaels
You will receive :
Up to 63%
Sorry, we do not have any gift cards for this store. We would be more than happy to let you know when we get new cards for this store though.
Try out the wishlist!