Home
>
Radio Shack
Radio Shack Discount Gift Cards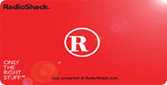 RadioShack is a chain of electronics stores with over 4,600 locations around the world. The company sells a wide variety of electronics brands and many Radio Shack branded electronics and accessories. Radio Shack sells batteries, cell phones, phones, TVs, audio, GPS, camera, video games, toys and electronic components. Buy a discount Radio Shack gift card from Giftah and enjoy savings on your next electronics purchase. You can make your own sale at Radio Shack anytime with these discount gift cards.
Sell your Radio Shack Gift Card :
Do you have an unwanted gift card? Sell your Radio Shack gift card to Giftah, we will pay 74% of your card's balance.
Radio Shack
You will receive :
Up to 74%
Sorry, we do not have any gift cards for this store. We would be more than happy to let you know when we get new cards for this store though.
Try out the wishlist!