Home
>
Wal Mart
Wal-Mart Discount Gift Cards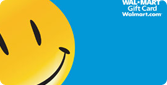 Walmart is a chain of massive discount department stores and warehouse stores. It also operated under the Sam's Club brand for retail warehouses in North America. Almost any item imaginable is sold at Walmart, the retailer specializes in electronics, office, movies, music, books, home furnishing, apparel, toys, video games, sporting goods, auto, home improvement, phone, grocery and photo products. There truly is something for everyone and everything you need to meet your daily needs at Walmart stores. Walmart is famous for low prices and now those prices can be even lower if you purchase a discount Walmart gift card. Giftah's discount Walmart gift cards will give new meaning to everyday low prices, use our Walmart gift cards to save even more on your next purchase.
How to check your Wal-Mart gift card balance?
Check by phone, call: 1-888-537-5503
Check Online: click here
Sell your Wal-Mart Gift Card :
Do you have an unwanted gift card? Sell your Wal-Mart gift card to Giftah, we will pay 91% of your card's balance.
Wal-Mart
You will receive :
Up to 91%
Sorry, we do not have any gift cards for this store. We would be more than happy to let you know when we get new cards for this store though.
Try out the wishlist!