Home
>
Walgreens
Walgreens Discount Gift Cards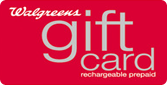 Walgreen is the largest drugstore chain with over 7,500 locations across the United States. The company provides pharmacy products and services, health and wellness counseling via Walgreens retail stores, Walgreens Health Initiatives, and Walgreens Mail Service. In addition the pharmaceutical products and services Walgreens sells contact lens, wellness and beauty products, makeup as well as postal and photo services. There is likely a Walgreens near you and now there is an easy way to save money at Walgreens pharmacies. Giftah offers discount Walgreens gift cards that can be used for any product or service at any Walgreens location. Why pay full price when you can use discount gift cards to save money on your everyday purchases?
How to check your Walgreens gift card balance?
Check by phone, call: 1-877-248-5555
Sell your Walgreens Gift Card :
Do you have an unwanted gift card? Sell your Walgreens gift card to Giftah, we will pay 79% of your card's balance.
Walgreens
You will receive :
Up to 79%
Sorry, we do not have any gift cards for this store. We would be more than happy to let you know when we get new cards for this store though.
Try out the wishlist!