Home
>
Wendys
Wendy's Discount Gift Cards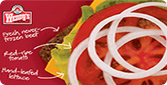 Wendy's Old Fashioned Hamburgers is more commonly known as just Wendy's. The fast food restaurant chain founded in 1969 by Dave Thomas has grown to become the worlds third largest fast food chains with over 6,650 locations. Wendy's has built a large following with its high quality fast food offering of chicken, hamburgers, French fries, and their famous Frosty. It's now possible to save money at Wendy's with a discount Wendy's gift card. If you like square burger patties you will love saving money at Wendy's with a discount gift card.
How to check your Wendy's gift card balance?
Check by phone, call: 866-936-1936
Check Online: click here
Sell your Wendy's Gift Card :
Do you have an unwanted gift card? Sell your Wendy's gift card to Giftah, we will pay 76% of your card's balance.
Wendy's
You will receive :
Up to 76%
Sorry, we do not have any gift cards for this store. We would be more than happy to let you know when we get new cards for this store though.
Try out the wishlist!