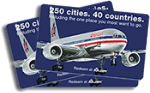 American Airlines has gotten into the lucrative gift card business, the airline has issued their own gift card with the bold market pitch "40 countries, 250 cities" written across the front of the card. The American Airlines gift card can be purchased on the American Airlines website or at numerous retail locations like Kroger, Safeway or Dominick's. Although the connection between grocery shopping and airline gift cards seems vague at best, supermarkets are trying to sell gift cards for just about anything except other supermarkets these days. One odd thing about the American Airlines gift card is that the denominations sold are currently only $50 or $100 which is not exactly enough to actually purchase a flight.
There is a better way to give someone the gift of air travel then airline gift cards. By giving an American Airlines gift card you are forcing the recipient to purchase their ticket from American Airlines, which will probably not have the best prices on the flight. Typically travel agents or air travel websites offer the best prices on flight. The gift card you give may end up never being used at all if the difference in the tickets price is more then the airline gift cards balance.
If you are going to be giving a travel gift card to someone, make sure it will not put them in an awkward position. Before you pay full price for an airline gift card check out Giftah a online gift card marketplace. The website has tons of travel gift cards sold by people who would rather have cash. All the transactions are 100% guaranteed and you can find a wide range of card including: Expedia gift cards, airline gift cards and travel agent gift cards. You can get a gift card with more flexibility and save a ton of money in the process.

Tags: airline gift card, airline voucher, American Airlines, American Airlines Gift Certificate, discount american airlines gift card, discount expedia gift card, discount gift cards, discount travel agent gift cards, expedia, expedia gift cards, expedia gift certificate, Gift Card Marketplace, Gift Cards, save on gift cards, sell airline voucher, travel agent gift card, travel agent gift certificate, Travel Gift Card, travel gift card discount, Travel Gift Certificate, Travel Voucher