Home
>
Moores
Moores Discount Gift Cards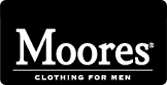 Moores, Clothing for Men, is a Canadian brand specialized in tailored clothing for men, an affiliate business of the Men's Wearhouse from the United States. Today Moores operates over 117 locations across Canada. In addition to selling shirts, suits, slacks, socks, footwear, outwear, and ties the company also does tuxedo rentals. While Moores clothing is already 'well prices' why not save more money on your next Moores purchase? With a discount Moores gift card from Giftah you can save money on anything you purchase from Moores, even rentals. A discount Moores gift card is even better than a sale or promotion code, it will never expired and you decide what you buy and when you buy it.
Sell your Moores Gift Card :
Do you have an unwanted gift card? Sell your Moores gift card to Giftah, we will pay 70% of your card's balance.
Moores
You will receive :
Up to 70%
Sorry, we do not have any gift cards for this store. We would be more than happy to let you know when we get new cards for this store though.
Try out the wishlist!