Home
>
Ticketmaster
TicketMaster Discount Gift Cards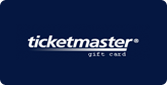 Ticketmaster is the world largest ticket sales and distribution company, Ticketmaster sells tickets to live music, sporting, family and theater events. It is also the primary sports ticket agent for live NFL, MLB, UFC, WWE and NHL events. You can purchase discount Ticketmaster gift cards from Giftah.com to save money on tickets. These discount Ticketmaster gift cards can be used for literally any Ticketmaster event. Imagine being able to save money on your next concert tickets or sporting tickets, now you can live entertainment tickets for less money then the box office price. Buying discount tickets is like the opposite of purchasing tickets from a scalper, hot tickets for less then the face value!
How to check your TicketMaster gift card balance?
Check by phone, call: 1-866-828-4400
Check Online: click here
Sell your TicketMaster Gift Card :
Do you have an unwanted gift card? Sell your TicketMaster gift card to Giftah, we will pay 83% of your card's balance.
TicketMaster
You will receive :
Up to 83%
Sorry, we do not have any gift cards for this store. We would be more than happy to let you know when we get new cards for this store though.
Try out the wishlist!