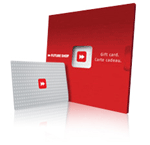 If  you have an unused Future Shop gift cards lying around gathering dust its time to do something about it. The first thing you need to do is check the balance of the gift card. A Future Shop gift cards balance can be checked by using one of the following methods:
1) Check Future Shop Gift Card Balance By Phone, Call 1-866-787-7995
2) Check Future Shop Gift Card Balance By Online, Click Here.
3) Check Your Future Shop Gift Card Balance At Any Future Shop Customer Service Desk.
After you figure out if that old Future Shop gift card is worth anything you can use the card to score some new electronics or sell the gift card on Giftah. Giftah lets you get cash for your unwanted gift cards. Either way don't risk losing your card or having it sit idle for too long.

Tags: Canada, check balance, check future shop gift card balance, Check Gift Card Balance, Electronics Gift Cards, Future Shop, Future Shop Canada, Future Shop Gift Cards, Gift Card, how to check gift card balance, old gift cards, unkown gift card balance