Saturday, March 5th, 2011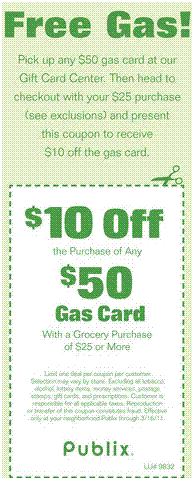 Publix is running an amazing gift card promotion until March 16th, 2011 that allows you to purchase discount gas gift cards from any Publix location. Publix's weekly flier has a coupon for $10 off a $50 gas gift card, that's a 20% discount on your gas! How great would it be to get a free $10 if gas gift cards? Best of all the promotion is not limited to any particular gas station, you can purchase Shell gift cards, BP gift cards, Exxon gift cards, Chevron gift cards and Texaco gift cards. Just pick up the gift card at the checkout, present the coupon during payment and you have yourself a great discount on Gas gift card (minimum purchase of $25 is required along with the gift cards, so pick up some groceries while your there) .
There is even money to be made if you can get your hands on multiple coupons, Giftah is paying up to 92% cash back on many of these gas gift cards. If you buy multiple discount gas gift cards you can turn around and sell them on Giftah.com for a healthy profit. Now you don't even need to own a gift card to profit from Publix's generous gift card promotion. Be sure to take advantage of this deal while it lasts and don't forget to turn your extra gift cards into cash on Giftah.com! You can also check out Giftah's gift card listings for discount gas cards or even discount Publix gift cards, no matter where you are shopping Giftah.com always has discounted gift cards that will help you save money on all of your purchases.