The first step to follow while checking a gift card balance is reading the back of the gift card. Usually the information necessary to check the gift cards balance will be located on the back of the gift card. After reading the instructions on the back of the card you will be asked to perform one of the following tasks:
Check Gift Card Balance By Phone – Some companies have a toll free number customers can call to check the balance of their gift cards. Most gift cards will list a number on the back of the card that you can call. Have your gift card available when you call. The operator may ask you to provide the gift cards serial number, pin number, or access number. In some cases you may have to scratch of a grey protective coating to be able to view a gift cards pin number. Some company's numbers will direct you to an automated service where you can enter the gift cards serial numbers and it will provide the balance. This is one of the most common and easiest techniques for determining the balance of your gift card.
Check Gift Card Balance Online – Many retailers also offer the option of checking your gift card balance online. If this option is available a link will usually exist on the retailers website that will take you to the area of the website where you may check your gift cards balance. The website will have fields for filling in the serial number and/or pin number and access code. Enter the information the website requests and it will provide the cards balance for you. If you have multiple gift cards it is easiest to check their balance online. Many retailers' websites will allow you to check multiple gift cards balances at once.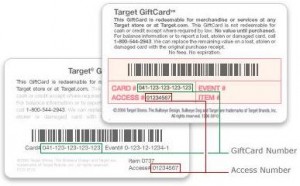 Check Gift Card Balance In Store – Every retailer offers the option of checking gift card balances in their stores. Unfortunately this is not very convenient for consumers and few stores still provide this as the only method for checking gift card balances. However, if you are in the neighborhood and wish to know your gift cards balance any retailer will provide a gift card balance check.
If you have had a gift card long enough where you do not remember the balance chances are the card is from a store you do not frequent. Luckily there is a way to get cash for your gift card. Now instead of sitting on gift cards for months at a time you can sell your gift cards online. The best site for selling gift cards online is Giftah. The website provides a fun and easy way to turn gift cards into cash.

Tags: acess code, Check Gift Card Balance, Check Gift Card Balance By Phone, Check Gift Card Balance Online, Get Gift Card Balance, Gift Card, Gift Card Balance Check, Gift Cards, how to check gift card balance, phone, pin number, serial number, website