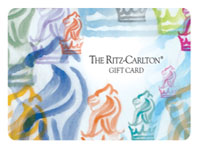 The Ritz-Carlton Rewards program has put on a new promotion that will help you earn free Ritz-Carlton gift cards. Well ok, its not exactly free a gift card worth a couple hundred will not exactly make a big dent in your bill for 5-10 days at the Ritz-Carlton but its something. If you are already planning an extended stay then why not take advantage of the free Ritz-Carlton gift card promotion?
All you need to do is sign up for the Ritz-Carlton Rewards program, its free to sign up and each stay will earn you points that can be redeemed at 33 air carries or any one of the Ritz-Carlton's 3,300 partner hotels located across the globe. Once you have signed up you will also receive a $100 Ritz-Carlton gift card for any 5 day stay at a Ritz-Carlton hotel. Stay 10 days and you will earn yourself a $250 Ritz-Carlton gift card.The promotion is running until June 30th, 2011.
The Ritz-Carlton gift cards can be used for a number of things including dinning in famous chef's restaurants, relaxing in one of the Ritz-Carlton's famous spas, or playing 18 holes on a PGA golf course. If these lavish activities don't do it for you or if you wallet is feeling a little light after your extended stay you can also consider selling your Ritz-Carlton gift cards on Giftah.com. It's easier than checking in at the Ritz-Carlton and you can turn your gift cards into cash in less than five minutes. Just send in your card and you will receive payment as soon as the balance is verified. It's a great way to get ride of something that is likely to sit around gathering dust for years.

Tags: $100 Ritz-Carlton gift card, $250 Ritz-Carlton gift card, Access to the Extraordinary., free Ritz-Carlton gift card, Ritz-Carlton, Ritz-Carlton gift card, Ritz-Carlton gift card promotion, Ritz-Carlton gift card rewards, Ritz-Carlton gift cards, Ritz-Carlton gift certificate, Ritz-Carlton gift certificates, Ritz-Carlton Rewards