Home
>
Apple Store
Apple Store Discount Gift Cards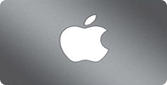 The Apple Store is a chain of retail stores owned and operated by Apple Inc. The Apple Store only sells Apple products including the companies popular Macbooks, iMacs, Apple TV, iPods, iPhone and iPads. There are around 250 Apple Stores operating in North America, many of Apple devices are on display and can easily be tested in the Apple Store. Apple has always been a premium electronics brand but there is a way to save money on Macbooks, iPhone and iPads. By using discount Apple Store gift cards you can buy your favorite Apple products for less then their retail cost.
How to check your Apple Store gift card balance?
Check by phone, call: 1-888-320-3301
Sell your Apple Store Gift Card :
Do you have an unwanted gift card? Sell your Apple Store gift card to Giftah, we will pay 86% of your card's balance.
Apple Store
You will receive :
Up to 86%
Sorry, we do not have any gift cards for this store. We would be more than happy to let you know when we get new cards for this store though.
Try out the wishlist!