Home
>
Ikea
IKEA Discount Gift Cards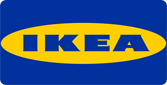 Ikea is an international home products company that designs and sells ready to assemble furniture and home accessories. You can now buy discount Ikea gift cards from Giftah.com to save money on your next Ikea purchase. Whether you are redecorating or renovating you can save cash on appliances, building materials, furniture, home décor and more by purchasing discount Ikea gift cards.
Sell your IKEA Gift Card :
Do you have an unwanted gift card? Sell your IKEA gift card to Giftah, we will pay 84% of your card's balance.
IKEA
You will receive :
Up to 84%
Sorry, we do not have any gift cards for this store. We would be more than happy to let you know when we get new cards for this store though.
Try out the wishlist!