Home
>
Lululemon
Lululemon Discount Gift Cards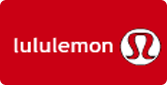 Lululemon Athletic is a North American retailer of yoga-inspired athletic apparel. The company sells apparel geared towards male and female yoga enthusiasts with product lines covering workout and yoga jackets, pants, shorts, hoodies, t-shirts, gym bags and accessories. Although Lululemon clothing can be expensive you can now save a ton of cash by purchasing discount Lululemon gift cards from Giftah. Why pay full price when you can save money on your next Lululemon clothing purchase.
Sell your Lululemon Gift Card :
Do you have an unwanted gift card? Sell your Lululemon gift card to Giftah, we will pay 70% of your card's balance.
Lululemon
You will receive :
Up to 70%
Sorry, we do not have any gift cards for this store. We would be more than happy to let you know when we get new cards for this store though.
Try out the wishlist!