Home
>
Blockbuster
Blockbuster Discount Gift Cards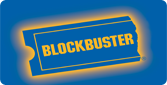 Blockbuster provides movies, video games and other entertainment media that can be rented, downloaded or purchased. Blockbuster specializes in providing new releases rentals in their retail locations across North America. Recently Blockbuster branched out from renting and selling movies, they now offer movies, games, music, books, video game consoles, as well as on demand services. You can Save money on your next Blockbuster rental or purchase with a discount Blockbuster gift card.
How to check your Blockbuster gift card balance?
Check by phone, call: 1-800-406-6843
Check Online: click here
Sell your Blockbuster Gift Card :
Do you have an unwanted gift card? Sell your Blockbuster gift card to Giftah, we will pay 0% of your card's balance.
Blockbuster
You will receive :
Up to 0%
Sorry, we do not have any gift cards for this store. We would be more than happy to let you know when we get new cards for this store though.
Try out the wishlist!