Home
>
Costco
Costco Discount Gift Cards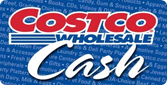 Costco is a large warehouse club superstore chain located with locations across North America. Customer must have a membership in order to purchase products at Costco, items are sold in bulk quantities to provide customers with significant discounts for buying products in bulk. Costco offers a wide selection of products and services, there are Costco Superstores, Costco gas stations, Costco Pharmacies as well as Costco tobacco and liqueur stores. The Costco superstores carry food products, office products, jewelry, health and beauty products, furniture, electronics, computers, automotive, furniture and hardware. Costco's prices are low but you can save even more on your next purchase with a discount Costco gift card from Giftah. Discount Costco gift cards can be applied to any purchase even items on sale.
How to check your Costco gift card balance?
Check by phone, call: 1-800-533-3421
Sell your Costco Gift Card :
Do you have an unwanted gift card? Sell your Costco gift card to Giftah, we will pay 88% of your card's balance.
Costco
You will receive :
Up to 88%
Sorry, we do not have any gift cards for this store. We would be more than happy to let you know when we get new cards for this store though.
Try out the wishlist!