Home
>
Dell
DELL Discount Gift Cards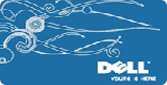 Dell computers have become a common site around the world, founded by Michael Dell in 1984 this Texas computer manufacture has grown to become 38th largest company in the US. Dell sells a wide range of technology products including personal computers, laptops, tablet computers, HDTV's, cameras, servers, storage and printers. Famous for its supply chain management and ecommerce sales channel Dell has managed to deliver low cost PC's for businesses and consumers everywhere. Now you can get Dell products for a even lower price then their supply chain can provide. By purchasing a discount Dell gift card from Giftah you can buy your electronics below cost!
How to check your DELL gift card balance?
Check by phone, call: 1-800-242-5353
Sell your DELL Gift Card :
Do you have an unwanted gift card? Sell your DELL gift card to Giftah, we will pay 85% of your card's balance.
DELL
You will receive :
Up to 85%
Sorry, we do not have any gift cards for this store. We would be more than happy to let you know when we get new cards for this store though.
Try out the wishlist!