Home
>
Gamestop
GameStop Discount Gift Cards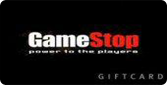 GameStop sells everything and anything related to video games. Whether you are into Nintendo, Playstation, Xbox, or PC gaming GameStop will have the video games and peripherals you need. GameStop operates over 6,500 stores around the world, opening around 400 new stores every year. It is famous for its trade in used games, offering customers GameStop gift cards for their used games and reselling the used games to other customers. Now Giftah gives you a way to save even more on your next GameStop purchase with discount GameStop gift cards. The discount gift cards can be used towards any new or used video games, video game systems or accessories.
Sell your GameStop Gift Card :
Do you have an unwanted gift card? Sell your GameStop gift card to Giftah, we will pay 76% of your card's balance.
GameStop
You will receive :
Up to 76%
Sorry, we do not have any gift cards for this store. We would be more than happy to let you know when we get new cards for this store though.
Try out the wishlist!