Home
>
Gap
Gap Discount Gift Cards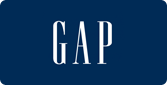 The Gap operates over 3,000 clothing stores worldwide. The company operates under Gap, Gap Kids and Baby Gap name and also overseas other major American clothing brands including Old Navy, Piperlime and Banana Republic. The Gap is an iconic clothing retailer that sells jeans, t-shirts, jackets, sweaters, dresses, underwear, shoes, bags and accessories. There is an easy way to save money on your next shopping trip to the Gap, simply purchase a discount Gap gift card and use it towards you next purchase. Even if the item is on sale you will save even more money with a discount gift card from the Gap.
How to check your Gap gift card balance?
Check by phone, call: 1-800-GAP-STYLE
Check Online: click here
Sell your Gap Gift Card :
Do you have an unwanted gift card? Sell your Gap gift card to Giftah, we will pay 83% of your card's balance.
Gap
You will receive :
Up to 83%
Sorry, we do not have any gift cards for this store. We would be more than happy to let you know when we get new cards for this store though.
Try out the wishlist!