Home
>
Kohls
Kohls Discount Gift Cards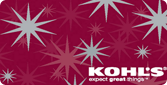 Kohl's operates a chain of 1,060 department stores across the United States. The company is focused on providing value focused specialty department store. The company also has been successful in expanding their department store online Kohls. com. The department stores carries a wide range of products including clothing, shoes, jewelry & watches, handbags, accessories, bed & bath, home décor and electronics. There is now an easy way to save money at Kohl's department stores, you can buy discount Kohls gift cards from Giftah and use them at any Kohls department stores. Why not save some money on your next purchase?
How to check your Kohls gift card balance?
Check by phone, call: 1-800-655-0554
Check Online: click here
Sell your Kohls Gift Card :
Do you have an unwanted gift card? Sell your Kohls gift card to Giftah, we will pay 79% of your card's balance.
Kohls
You will receive :
Up to 79%
Sorry, we do not have any gift cards for this store. We would be more than happy to let you know when we get new cards for this store though.
Try out the wishlist!