Home
>
Macys
Macys Discount Gift Cards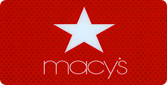 Macy's department stores has over 800 stores in the United States specializing in women and men's apparel, jewelry,, beauty and fragrance products, fashion accessories, handbags, shows, and home furnishings. Save money at Macy's by purchasing discount Macy's gift cards from Giftah. These discount gift cards will allow you to save money on anything you buy on your next trip to Macy's.
How to check your Macys gift card balance?
Check by phone, call: 1-800-511-2752
Check Online: click here
Sell your Macys Gift Card :
Do you have an unwanted gift card? Sell your Macys gift card to Giftah, we will pay 82% of your card's balance.
Macys
You will receive :
Up to 82%
Sorry, we do not have any gift cards for this store. We would be more than happy to let you know when we get new cards for this store though.
Try out the wishlist!