Home
>
Petsmart
PetSmart Discount Gift Cards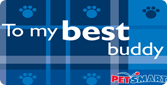 PetSmart is a specialty retailer that exclusively sells pet supplies. The company also operates a Doggie Day Care and Pet Hotel under the PetSmart PetsHotel animal boarding facilities. PetSmart store are unique for allowing pet owners to bring their pets shopping with them, customers are encouraged to bring their pets into the store. In additional to pet supplies for dogs, cats, birds, fish and reptiles the company's employees offer pet expertise as well as grooming and training services. Pets can be expensive but now you can save money with a discount PetSmart gift card from Giftah.
How to check your PetSmart gift card balance?
Check by phone, call: 1-800-820-6189
Sell your PetSmart Gift Card :
Do you have an unwanted gift card? Sell your PetSmart gift card to Giftah, we will pay 82% of your card's balance.
PetSmart
You will receive :
Up to 82%
Sorry, we do not have any gift cards for this store. We would be more than happy to let you know when we get new cards for this store though.
Try out the wishlist!