Home
>
Swarovski
Swarovski Discount Gift Cards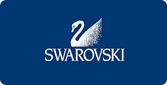 Swarovski sells premium crystal glass and other luxury products. Founded in 1862 the Austrian company has build up hundreds of retail locations across the world. Their trade secret method of cutting crystal is recognized as the best in the world. The company's crystal appears in sculptures, miniatures, couture, Christmas ordainments, jewelry and chandeliers. Whether you are a die hard Swarovski crystal collector or simply need a classy gift for a special occasion you can now buy Swarovski crystal for less then retail by using discount Swarovski gift cards. Giftah's discount gift cards will save you a mountain of cash on your next Swarovski purchase.
Sell your Swarovski Gift Card :
Do you have an unwanted gift card? Sell your Swarovski gift card to Giftah, we will pay 70% of your card's balance.
Swarovski
You will receive :
Up to 70%
Merchant
Value
You Pay
You Save