Home
>
Target
Target Discount Gift Cards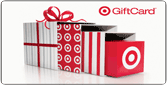 Target is the second largest discount department store with 977 stores across the United States. Target stores offer discount department stores items and a more consumer friendly shopping experience then their competitor Walmart. The Target department stores carry a wide range of products including furniture, kitchen items, toys, electronics, video games, movies, home décor, and clothing, jewelry, shoes and accessories for men, women and children. No matter what you are looking for Target department stores are sure to have it. You can now save money shopping at Target with a discount Target gift card from Giftah. The discount gift cards can be used for any item at Target, even it its on sale your Target gift card will save you money.
How to check your Target gift card balance?
Check by phone, call: 1-800-544-2943
Sell your Target Gift Card :
Do you have an unwanted gift card? Sell your Target gift card to Giftah, we will pay 90% of your card's balance.
Target
You will receive :
Up to 90%
Merchant
Value
You Pay
You Save