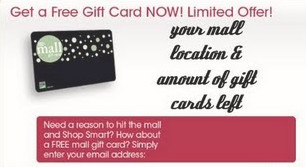 Shop Smart Look Fab has partnered up with TLC's What Not To Wear to run a nationwide promotion that gives back to school shoppers a free $10 gift card for their local mall. Hundreds of malls across America are taking part in the promotion, you just go to the web site, enter your zip code and a list of participating malls are displayed. It is great to have the option of choosing which local mall you want to use your gift card at.
To take advantage of the promotion click here, enter your zip code and select your mall, fill out the information form and print out your confirmation e-mail and follow its instructions. You must spend a minimum of $75 at a participating mall to qualify for this gift card promotion which should not be too hard considering all the back to school shopping that needs to be done. After you have collected $75 worth of receipts you can take them to the Shop Smart Zone in your local mall to collect your free $10 mall gift card.
If you have completed your monthly shopping and have no need for your free $10 gift card consider turning the gift card into cash. Giftah is a online marketplace for gift cards. You can sell your gift cards directly to Giftah or list it on the site in a gift card auction. Its a great way to get some cash for your unwanted gift cards, it is also worth checking out before you do your back to school shopping due to its large selection of discount gift cards. Its the one step destination for all your gift card needs.

Tags: Back To School Gift Card Promotion, buy discount gift cards, discount gift cards, Free $10 Gift Certificate, Free Gift Card, Free Gift Certificate, Mall Gift Card, Mall Gift Certificate, Mall Promotion, save money back to school shopping, Shop Smart Look Fab, Shop Smart Look Fab Promotion, TLC What Not To Wear, What Not To Wear Promotion