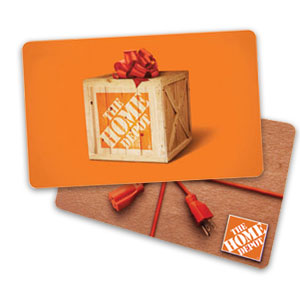 One of our readers wrote in to let us know that it is now possible to check the balance of a Home Depot gift card online. Previously the only way consumers could check their balance was in store. Obviously this is not a convenient way to check your balance and it looks like Home Depot has finally gotten the message. Their new gift card page offers balance checks on gift cards and the ability to purchase new gift cards with a customized message. With the launch of the new web features customer are now able to check their gift card balances using the following tools,
1) Check Home Depot Gift Card Balance Online, click here.
2) Check Home Depot Gift Card Balance At Any Home Depot Location.
After you find out your balance ask yourself whether or not you will use your gift card balance soon or if you would rather have cash. If you decide to use your Home Depot gift card on a new project check Giftah.com for discount Home Depot gift cards to add more value to your purchase. If you are not planning on shopping there any time soon sell your Home Depot gift card to Giftah and use the cash to buy what you really want.

Tags: Cheap Home Depot Gift Cards, Check Gift Card Balance, check gift certificate, Check Gift Certificate Balance, Discount Gift Card, Discount Home Depot Gift Cards, Discount Home Depot Gift Certificate, Home Depot, Home Depot Balance, Home Depot Gift Card, Home Depot Gift Cards, Home Depot Gift Certificate, Sale Home Depot, Save At Home Depot, Sell Home Depot Gift Cards, Sell Home Depot Gift Certificates