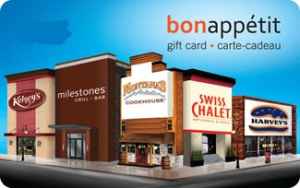 Do you have a Swiss Chalet gift card but are unsure of what balance is remaining on the card? If so than you have come to the right spot, in this post we will look at the different ways you can check your gift cards balance. We will also examine some alternative uses for your gift card, for example did you know you can get cash for your unwanted gift cards? You can also purchase gift cards at a discount and save money every time you eat out. Before you decided what to do with your gift card you can check the balance using either of the following methods,
1) Check Swiss Chalet Gift Card Balance Online, Click Here.
2) Check Swiss Chalet Gift Card Balance At Any Swiss Chalet Location.
Swiss Chalet gift cards are part of the BonAppetit gift card network that includes several other Canadian restaurants such as Harvey', Montanas, Kelseys and MileStones. You can use the same online or in store options listed above to check the gift card balance on cards from any of these restaurants. For example you would be able to check the balance on your Swiss Chalet gift card at any Harveys location or vise versa.
Often our gift cards end up sitting around the house for years, so long that we often can not even remember what balance is left on the card. There are now alternative ways to use your gift card, in addition to using your gift card for a meal or two you can now sell Swiss Chalet gift cards and use the money to buy whatever you want. That's right, you can now turn your unwanted gift cards into cash. You can sell your gift cards on Giftah.com, they will give you cash for any of your unwanted gift cards. If you still decide you want to use your gift cards you can also check Giftah.com for discount gift cards to major Canadian restaurants and retailers. Either way Giftah.com will help you put more money back in your pocket.

Tags: bon appetit gift card, bonappetit gift card, bonappetit gift card balance, bonappetit gift cards balance, check bonn appetit card balance, Check Gift Card Balance, check swiss chalet card balance, check swiss chalet gift card balance, gift certificate balance, see swiss chalet gift card balance, Swiss Chalet, swiss chalet canada, Swiss Chalet Gift Card, Swiss Chalet Gift Card Balance, Swiss Chalet gift cards, Swiss Chalet gift certificarte, Swiss Chalet gift certificate balance, view swiss chalet gift card balance